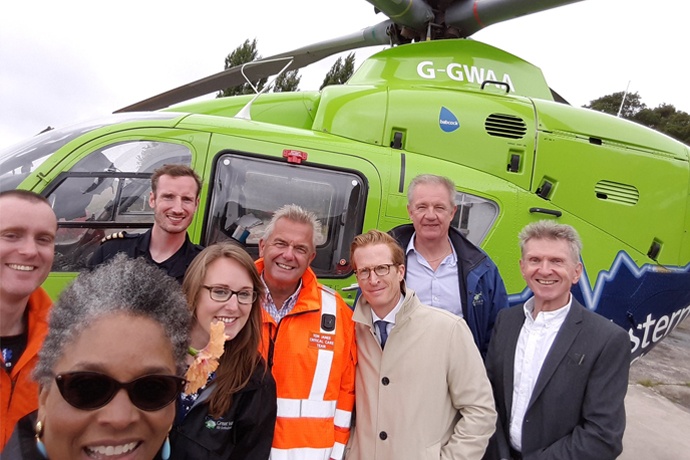 26 July 2017
Lord-Lieutenant Peaches Golding visited the Great Western Air Ambulance Charity (GWAAC) of which she is Patron. GWAAC provides life saving emergency care to prople who cannot be reached by road or are in such a critical state that they require specialist skills at the scene of an accident. 40% of GWAAC services are provided to people in Bristol. Anyone can support their operation! http://www.greatwesternairambulance.com/.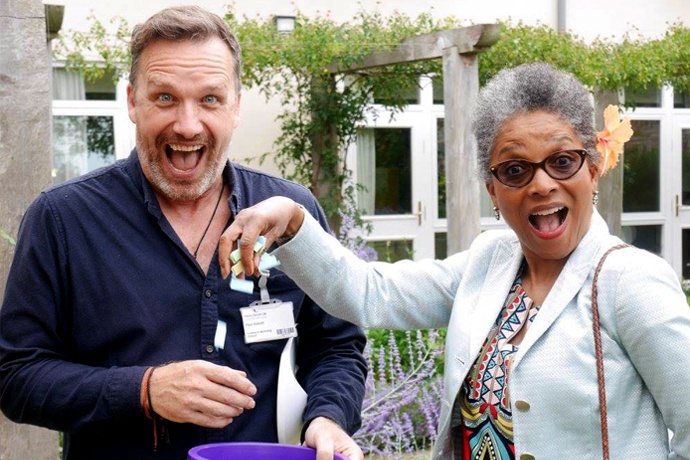 18 July 2017
For ten years, Penny Brohn UK has helped people live well with the impact of cancer by offering emotional, nutritional, psychological and physical support. In celebration, the well respected charity held a tea party where supporters, patients, therapists and volunteers could reflect on the ground-breaking treatments pioneered by the National Centre. Two prizes were raffled on the day. HRH The Prince of Wales is Patron of Penny Brohn UK https://www.pennybrohn.org.uk/
It is not entirely clear what was going on when this photo was taken, but apparently Peaches came across some long forgotten little treasures in his top pocket that filled them both with instant and identical delight.
Or maybe it was something to do with the raffle....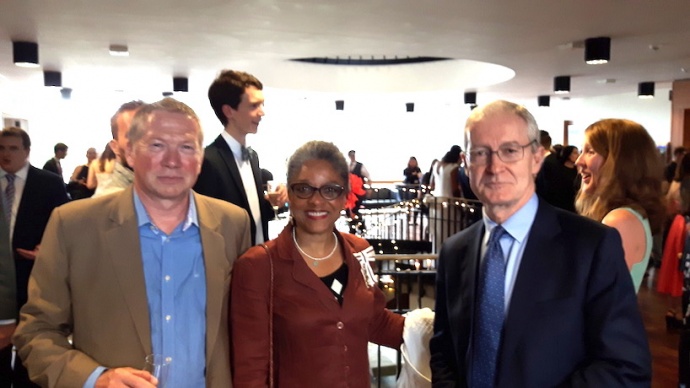 10 July 2017
SU 2017 celebrated a vast array of achievements by students at the University of Bristol. Professor George Banting and Vice Chancellor Professor Hugh Brady joined the Lord-Lieutenant, dignitaries, academics and students for an evening of entertainment, awards and presentations. The Students' Union holds The Queen's Award for Voluntary Service.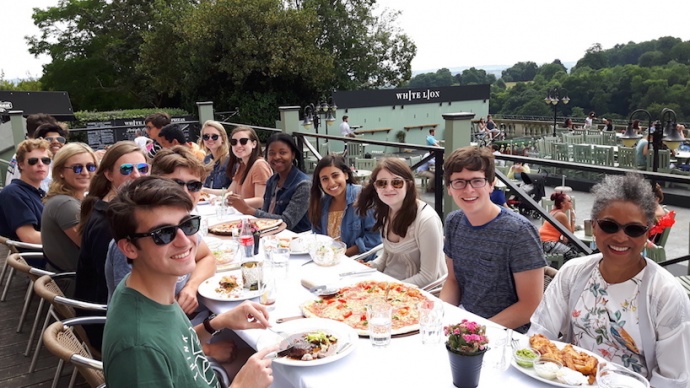 7 July 2017
The latest group of students enrolled on the University of North Carolina (UNC) Honors Carolina course spent a lovely day in Bristol during which they engaged in a discussion with former Carolina alumna Lord-Lieutenant Peaches Golding OBE. Meeting Peaches, a graduate from the UNC Chapel Hill, USA, in 1976, was part of a packed, week-long programme of activities for the students, who are recent high school graduates about to start their four years of study at UNC. Students participating on the Honors Carolina programme met a number of Carolina alumni involved in plant genomics at Kew, diplomacy at the Foreign and Commonwealth Office, global finance at Barclays; they also attended a performance at Shakespeare's Globe Theatre. Peaches was instrumental in encouraging the Honors Carolina programme to visit Bristol. The group was based at Winston House in Bedford Square, the London home of UNC Honors Carolina. During their day-trip from the capital city they enjoyed a cruise along the Bristol docks and ate lunch overlooking the iconic Clifton Suspension Bridge. One of the aims of the Honors Carolina programme is to broaden the career ambitions and horizons of the participants. Thus, in a discussion led by Honors Carolina Dean Prof Jim Leloudis, the group held an informal, illustrated conversation on how Peaches' career had developed and progressed from those heady days in Chapel Hill to her present role as Lord-Lieutenant of Bristol, UK.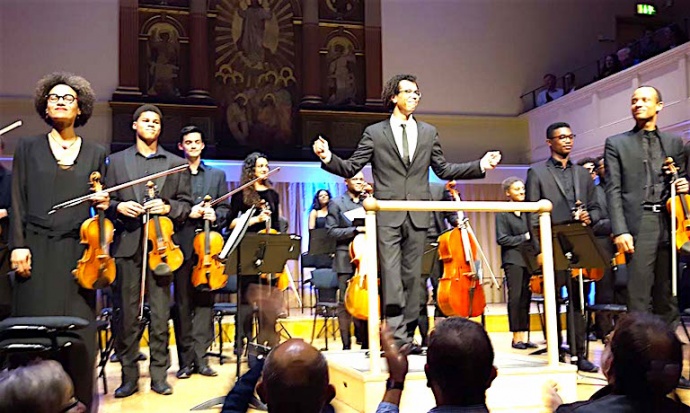 23 April 2017
The Chineke! Orchestra, Europe's first orchestra of exceptionally talented black and minority ethnic musicians, staged a concert at St George's Brandon Hill. Bristol was chosen as the orchestra's first concert outside London since its launch in 2015. The orchestra champions change and celebrates diversity in classical music. It comes together several times a year to perform together. Among the musicians taking part was the BBC Young Musician of the Year Sheku Kanneh-Mason. Founder of Chineke! Orchestra, and double bassist, Chi-chi Nwanoku MBE is already known to Bristol audiences as a leading member of the Orchestra of the Age of Enlightenment. St George's has championed BME artists and those with disabilities from across music genres including classical, jazz, and world, and is seeking funding to deliver an education and outreach programme alongside Chineke! Orchestra. St George's has championed BME artists and those with disabilities from across music genres including classical, jazz, and world, and is seeking funding to deliver an education and outreach programme alongside Chineke! Orchestra. Chief Executive of St George's Bristol, Suzanne Rolt, commented: "We could not be more excited to be marking St George's Day with the Bristol launch of an extraordinary new orchestra Chineke! – Europe's first professional black and minority ethnic orchestra."